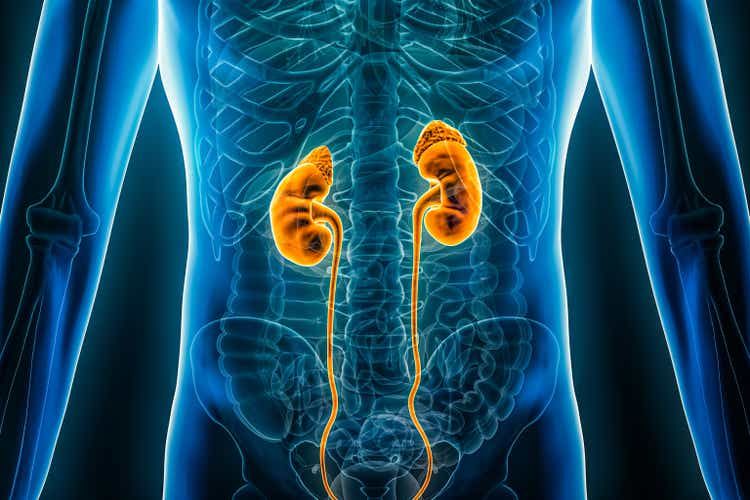 In agreement with Seeking Alpha Quant, I rate Akebia Therapeutics, Inc. (NASDAQ:AKBA) a Strong Buy on the basis of its overly discounted revenue, which has strong prospects in a very large Chronic Kidney Disease, or CDK, Total Addressable Market, or TAM. AKBA is a pure play on a market that affects up to 10% of the global population and is therefore a great candidate for acquisition by a larger pharmaceutical company, in my opinion. I review the current financials before discussing the forward revenue potential to arrive at a valuation, and finally discuss the risks in investing in AKBA.
Company Financials
The chart below visualizes AKBA's R&D expenses and Sales and Marketing expenses against its revenue. Revenue is volatile, ranging from nothing in 2016 to over $120 Million in Q2 2022, the span of approximately six years. R&D expenses and Sales and Marketing expenses are highly correlated with revenue, suggesting that the company wants to be financed by its own cash flow, and is not aggressively borrowing or issuing shares.
The chart below confirms that cash has been used to decrease liabilities since 2021. The company did leverage itself through 2021, yet since this time cash and total liabilities have decreased. The spike in assets in the chart above is explained by an accumulation of inventory, and intangible assets that have since been sold off and reinvested in marketing and R&D.
To summarize the financial picture, we are looking at a company with a current ratio of about 1.46, indicating that it is healthy in the near term, with enough assets to cover near term liabilities. The company has furthermore been able to cut expenses and pay off long term debt without meaningfully diluting shareholders.
The past revenue and future prospects now need analysis with the aim of determining the viability of future dividends and share buybacks.
Revenue
As of Q4, 2022, the most recent earnings presentation available to investors, the image below from the earnings call presentation summarizes the product line and stage of development, although new movements have occurred.
Auryxia
This drug is used to treat iron deficiency anemia and hyperphosphatemia, an excess of phosphorous in the blood, in the United States, Japan and Taiwan. It has passed all clinical trials and competes on the market. In the Q1 2023 earnings call, management has guided revenue of at least $175 Million, and this drug is not yet on the market in the EU.
Vafseo (vadadustat)
Not yet on the market in the United States or the EU for any treatment, Vafseo is currently prescribed to patients in Japan, and management explains on the most recent earnings call that it will be bringing this drug to market in the EU, where 325,000 patients are treated due to anemia from CKD, through a carefully selected partnership, now that the European Commission has granted marketing authorization for Vafseo. The company announced on May 25 their partner company, MEDICE Arzneimittel Pütter GmbH & Co.KG, who will market the drug in the EU and pay up to 30% royalties to Akebia. Akebia is pushing for approval in the U.S. and said in the recent earnings call,
In the U.S., our work towards a potential approval for vadadustat continues, as we remain engaged with the Office of New Drugs, or OND, on our appeal to the vadadustat complete response letter, or CRL. Last quarter, we met with Dr. Peter Stein, Director of the Office of New Drugs and the deciding authority on our appeal. Since that time, Dr. Stein indicated he has completed his internal discussions with experts within the OND, and we anticipate a response within the next 30 days.
Praliciguat and HIF-Based Research
Praliciguat will potentially be used to treat obesity and has been successfully used to treated mice with diet-induced obesity by lowering their metabolism according to a recent article in The NIH National Library of Medicine. HIF stands for Hypoxia-Inducible Factor and essentially deals with cellular responses to deprived levels of oxygen, which are important in stopping the spread of cancer and the role kidneys play in this process.
Valuation
Taking just Akebia's revenue from Auryxia and applying the Healthcare Price/Revenue sector ratio of 4.09, the valuation of this company should be at least around $716 Million, or more than 3x its current valuation.
That estimate does not consider many important factors which would increase the valuation even further. Specifically, the approval of Vafseo in the EU should increase revenue significantly. Assuming just 10% market penetration of 325,000 patients, and a per patient annual revenue of just $5,000 adds another $48 Million dollars in market capitalization to the stock, per the model I use above, and assuming just 30% of the revenue generated in the EU goes back to Akebia.
Based on total shares outstanding at the last filing of 185.9 Million, I therefore calculate a conservative price target of approximately $4.10 per share. This valuation assumes that Vafseo won't be approved in the United States and that the phase 1 and discovery stage drugs in R&D will have no impact on future revenue.
Risks
This investment does not come without risks. Any time a company has more total liabilities than total assets, I usually stay away. The company is and is expected to be cash flow negative for some time. The cash burn rate is a bit frightening. There is little promise of share buybacks and dividends in the next ten years. There is also stiff competition in the CKD drug market, with some big names advertised on television like Farxiga. There is furthermore the risk that insurance companies will not cover this drug, and that it won't be accessible to patients. The biggest risk to share prices is that the FDA fails to approve vadadustat, and that the prospect of approval is already priced in to some extent.
Conclusions
At just 77% of past revenue, I think that this stock is a Strong Buy given its future revenue prospects. Shareholders must continue to demand that debt be paid down and new shares not be issued. R&D expenses must be kept in line with revenue so that growth can take place organically. Akebia has not only demonstrated the ability to develop drugs, but has also brought them to market and generated revenue.
For any investor that does not recognize the importance of vadadustat's acceptance into the EU, I urge you to read this article, which shows that the EMA and FDA agree 90% of the time. This bodes well for Auryxia to come to the European market, as well. I therefore estimate a 90% chance that vadadustat is approved in the U.S. in the near term, and that share prices react accordingly, as approval does not seem to be fully priced in just yet but may explain the recent momentum in this name.
Buy the trend, and sell the news, here.