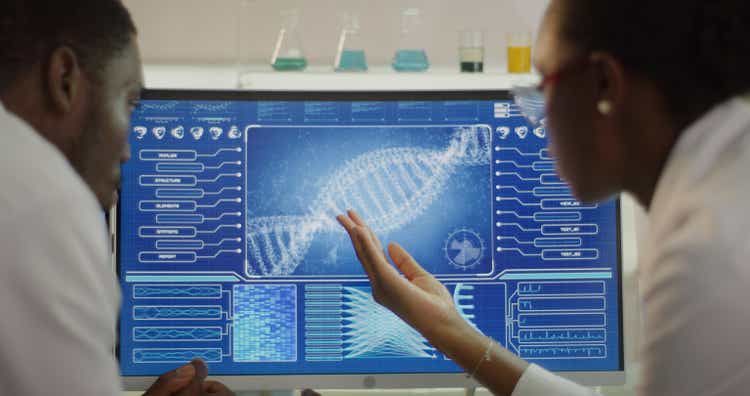 In the rapidly-evolving landscape of biopharmaceuticals, one company that stands out for its highly focused and promising approach to addressing rare genetic diseases is Ultragenyx Pharmaceutical Inc. (NASDAQ:RARE). The company's financials demonstrate remarkable resilience, with astute expense management, robust cash reserves, and a commitment to high-value initiatives that secure its future. Its recent results, including its outstanding Q1 performance, are a testament to the company's adaptability in the face of ever-changing market dynamics.
The company's impressive pipeline boasts a diverse array of potential treatments spanning multiple rare genetic diseases, ensuring that Ultragenyx remains at the cutting edge of therapeutic innovation. Gene therapy candidates like UX111, DTX401, DTX301, and UX701 hold the promise of revolutionizing treatment for a myriad of conditions, further solidifying Ultragenyx's position as a leading force in the biopharmaceutical sector.
Financials Support Investment
The financial prospects for Ultragenyx Pharmaceutical Inc. in 2023 appear highly favorable, attributed to their outstanding Q1 performance, which witnessed a significant 26% increase in total revenue, reaching an impressive $100.5 million. This ascent was mainly fueled by a rising demand for Crysvita in Latin America, along with consistent growth across all other regions and products. Additionally, the revenue also comprises $1.5 million earned from the recently concluded technology transfer in cooperation with Daiichi Sankyo—an indication of the firm's enterprising partnership initiatives.
Ultragenyx's operating costs for Q1 2023 amounted to $254.6 million, incorporating non-cash stock-based compensation of $31.9 million. It is essential to emphasize that the organization is extremely conscientious in managing staff levels and enhancing operational efficiency, thereby anticipating a reduction in yearly operating costs for this year. This judicious approach to expense management exemplifies the firm's dedication to implementing high-value initiatives while preserving stable profit margins.
In spite of the $164.0 million net loss during the first quarter of 2023, which escalated from the $152.3 million deficit in Q1 2022, Ultragenyx continues to hold a robust cash standing, with approximately $714.6 million in cash, cash equivalents, and marketable debt securities as of March 31, 2023. This indicates the company's capacity to withstand temporary challenges and concentrate on long-term expansion.
In terms of future predictions, the 2023 Financial Guidance for Ultragenyx reconfirms its aggressive estimations. The total revenue is anticipated to fall between $425 and $450 million, with Crysvita revenue constituting a sizable portion—ranging between $325 and $340 million, inclusive of royalties in Europe and North America. Dojolvi is projected to yield revenue between $65 and $75 million. Moreover, Ultragenyx predicts Net Cash Used in Operations to be less than $400 million.
Product Candidates and Pipeline
As of 2023, Ultragenyx has four approved products and nine potential treatments undergoing different stages of clinical trials. CRYSVITA is an antibody therapy for X-linked hypophosphatemia (XLH) and tumor-induced osteomalacia (TIO), targeting and suppressing fibroblast growth factor 23 (FGF23), a hormone that controls phosphate and vitamin D metabolism. MEPSEVII is an enzyme substitution treatment for Mucopolysaccharidosis type VII (MPS VII), delivering recombinant human beta-glucuronidase, an essential enzyme for decomposing complex sugars known as glycosaminoglycans (GAGs) that amass in tissues and organs. EVKEEZA (partnered with regeneron) is an antibody therapy for Homozygous familial hypercholesterolemia (HoFH) that hampers the action of angiopoietin-like 3 (ANGPTL3), a protein engaged in lipid metabolism. DOJOLVI is an approved replacement therapy for long-chain fatty acid oxidation disorders (LC-FAOD), offering a specially engineered synthetic triglyceride that serves as an alternate power source to circumvent metabolic obstacles.
Moreover, Ultragenyx is exploring several potential treatments, including UX143 for Osteogenesis imperfecta (OI), UX111 for Mucopolysaccharidosis type IIIA (MPS IIIA), DTX401 for Glycogen storage disease type Ia (GSDIa), DTX301 for Ornithine transcarbamylase (OTC) deficiency, UX701 for Wilson disease, UX055 for CDKL5 deficiency disorder (CDD), and UX810 for Duchenne muscular dystrophy (DMD). These potential therapies consist of various antibody treatments, adeno-associated viral (AAV) gene therapies, and replacement treatments targeting deficient or mutated proteins, enzymes, or genes in patients with the aforementioned diseases. By supplying functional or missing copies of these essential elements, Ultragenyx's potential treatments aim to reinstate normal metabolic function, alleviate disease-associated symptoms, and enhance patient outcomes.
Ultragenyx Receives FDA Approval to Amend GTX-102 Trial
Ultragenyx Pharmaceutical has obtained the U.S. Food and Drug Administration's approval to amend the Phase 1/2 trial of GTX-102 in young patients with Angelman syndrome. This permits the firm to synchronize the dose scopes in the U.S. with those employed in the non-U.S. participant groups of the research. The non-U.S. segment, which includes Europe, Canada, and Australia, is already administering doses to patients in supplementary cohorts. This consent allows Ultragenyx to quickly launch various study sites across the United States and initiate enrollment.
Unifying dose scopes across regions ensures seamless progression for the examination. Ultragenyx is eager to capitalize on the positive data obtained from the Phase 1/2 trial, which demonstrated significant clinical efficacy across numerous functional domains affected by Angelman syndrome and an acceptable safety profile.
The Phase 1/2 open-label, dose-escalation trial assesses the safety, tolerability, and clinical response of GTX-102 in pediatric Angelman syndrome patients diagnosed with a full maternal UBE3A gene deletion. Approximately 40 patients will be enrolled in the expansion cohorts, and as of May 4, 2023, 13 patients have experienced over 12 months of exposure to GTX-102.
Angelman syndrome is a rare, non-hereditary neurogenetic disorder that affects 1 in 12,000 to 1 in 20,000 individuals worldwide, resulting from a loss of function in the maternal UBE3A gene. GTX-102, an experimental antisense oligonucleotide developed to target and suppress UBE3A-AS expression, has shown potential in reactivating paternal UBE3A expression in animal models, ameliorating some neurological symptoms associated with the disorder.
This advancement signifies a positive stride for Ultragenyx, as it demonstrates regulatory backing for their endeavors to understand and manage Angelman syndrome, a disease that currently has no approved treatments. The progress with GTX-102 highlights Ultragenyx's dedication to advancing innovative therapies for rare genetic disorders, offering hope to patients and families affected by these conditions.
The Benefits Outweigh the Risks
When considering the potential ways in which the drugs developed by Ultragenyx could fail, it is essential to look at their mechanisms of action and identify potential concerns that may hinder their success. While these drugs hold promise for treating rare genetic diseases, there are certain risks and challenges associated with their approaches.
CRYSVITA is a monoclonal antibody that targets FGF23, regulating phosphate and vitamin D metabolism. One potential concern with this approach is the possibility of disrupting the delicate balance of phosphate and vitamin D in the body, which could lead to unforeseen complications such as abnormal bone mineralization or disturbances in calcium homeostasis.
MEPSEVII, an enzyme replacement therapy for MPS VII, aims to address the deficiency of beta-glucuronidase. While enzyme replacement therapies have proven effective in some cases, challenges include ensuring sufficient distribution and uptake of the enzyme throughout the body. If the enzyme fails to reach target tissues adequately or encounters immunogenic reactions, the therapy's effectiveness may be compromised.
EVKEEZA targets ANGPTL3 to modulate lipid metabolism in HoFH. A potential concern with this approach is the impact on physiological lipid balance, as modulating lipid metabolism may disrupt normal lipid processing and utilization, potentially leading to adverse effects such as impaired lipid absorption, disturbed lipid transport, or liver-related complications.
DOJOLVI is a substrate replacement therapy for LC-FAOD. By providing an alternative energy source, DOJOLVI bypasses metabolic blocks. However, there may be concerns regarding the optimal dosage and long-term safety of this synthetic triglyceride, as unintended metabolic disruptions, imbalances in lipid profiles, or potential toxicity of the synthetic compound could pose challenges to its success.
When assessing the potential dangers and concerns associated with the pipeline candidates, it is crucial to recognize that these products are still in development. However, some general concerns can be identified, particularly for gene therapies such as UX111, DTX401, DTX301, UX701, UX055, and UX810. These therapies involve the delivery of functional copies of genes using viral vectors, and while they hold great promise, challenges include the precise targeting and delivery of therapeutic genes to desired cells or tissues. The immune response triggered by the viral vectors, potential insertional mutagenesis, and the long-term stability of gene expression are additional factors that may impact the success of these therapies.
Ultragenyx Fares Well Against Competitors
When examining Ultragenyx's products in the competitive landscape, it is crucial to assess how they compare to similar products offered by competitors.
For CRYSVITA, a key competitor is the phosphate-binding therapy for XLH, KRN23. However, CRYSVITA emerges as a superior choice, as it directly targets FGF23 to regulate phosphate and vitamin D metabolism rather than only managing serum phosphate levels. Therapies that solely focus on binding phosphate in the intestines may provide less complete treatment than CRYSVITA, which addresses the underlying issue of FGF23 overactivity.
In the realm of MPS VII, one notable competitor to MEPSEVII is the substrate reduction therapy (SRT) eligible for MPS I, II, and III. While SRT focuses on reducing GAG production, which otherwise leads to complications, MEPSEVII offers enzyme replacement therapy for MPS VII patients, directly addressing the underlying deficiency that causes GAG accumulation. This difference makes MEPSEVII's mechanism potentially more effective for these patients, as it restores the deficient enzyme rather than solely reducing substrates.
For EVKEEZA, comparable products include statins and PCSK9 inhibitors for HoFH treatment. Nonetheless, EVKEEZA targets a unique pathway involving ANGPTL3, which has a broader impact on lipid metabolism. By inhibiting ANGPTL3, EVKEEZA not only reduces LDL-C levels but also impacts other lipid parameters that confer risk for cardiovascular complications. This approach may be advantageous for HoFH patients who may not respond as effectively to statin therapy or require more comprehensive lipid control.
When comparing DOJOLVI to conventional long-chain triglycerides (LCT) as a dietary supplementation strategy, the synthetic triglyceride in DOJOLVI is tailored for patients with LC-FAOD, ensuring an alternate energy source that bypasses the metabolic blocks typically encountered. LCT supplementation might be less efficient, as long-chain fatty acids remain difficult for LC-FAOD patients to metabolize properly.
Considering the pipeline candidates, Ultragenyx is vying with various gene therapy competitors. Of particular note is Bluebird Bio (BLUE), which focuses on treatments for genetic diseases, including cerebral adrenoleukodystrophy and multiple beta-thalassemia variations. Despite this competition, Ultragenyx advances a diverse pipeline, including gene therapies for a broader spectrum of diseases like OTC deficiency, GSDIa, MPS IIIA, Wilson disease, CDKL5 deficiency disorder, and DMD. This expansive reach into various disorders, coupled with promising early-stage results, may set Ultragenyx apart from its competition.
Conclusion
Ultragenyx Pharmaceutical Inc. presents a rare opportunity to invest in a company actively transforming the landscape of rare genetic disease therapies. Our bullish outlook on Ultragenyx is underpinned by strong financial performance, innovative treatments that outpace competitors, and a promising pipeline that ensures a bright future for the company.
Furthermore, Ultragenyx's approved products, including CRYSVITA, MEPSEVII, EVKEEZA, and DOJOLVI, address the underlying disease mechanisms more effectively and cater to the unique needs of patients who previously lacked viable treatment options. This not only sets the company apart from its competitors but also secures its position as a force to be reckoned within the biopharmaceutical space.
The company's diverse pipeline of potential treatments, encompassing multiple rare genetic diseases, underscores Ultragenyx's dedication to innovation and expansion. With gene therapy candidates like UX111, DTX401, DTX301, and UX701, Ultragenyx is poised to change the way these diseases are treated and reinforce the company's reputation as a trailblazer in the biopharmaceutical sphere. Ultimately, an investment in Ultragenyx offers exposure to a company that is not only financially robust but also committed to advancing breakthrough therapies for some of the rarest and most underserved medical conditions.