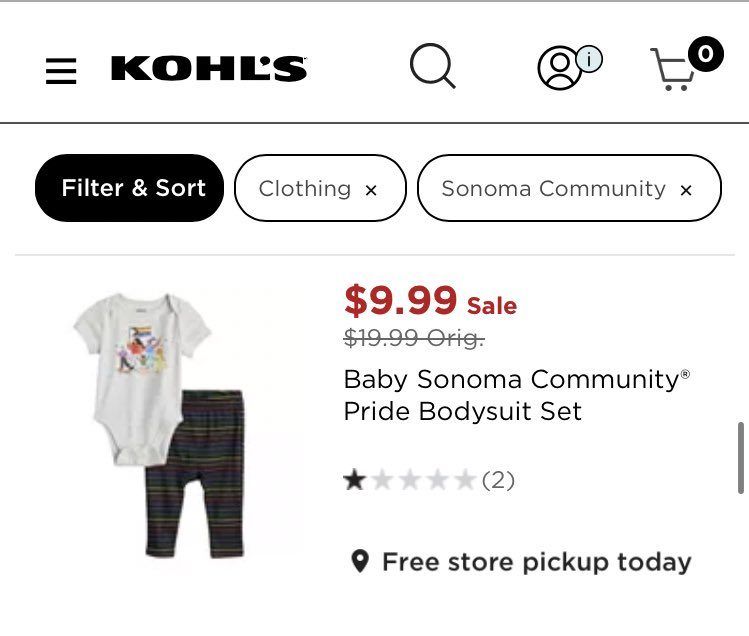 Kohl's is the latest big retailer facing calls for a boycott after shoppers found gay Pride gear for babies — with some calling it "time for a Bud-Lighting."
The department store saw a rising number of #BOYCOTTKHOLS hashtags online after conservative commentators posted about how it was selling a Pride onesie for 3-month-old kids.
"In case you need clothes for your Gay or Trans 3 month old, Kohl's has you covered," online commentator ALX wrote alongside a screenshot of the onesie. "Yes this is real."
Benny Johnson also asked his 1.5 million followers: "Why is Kohl's selling 'Pride Merch' for 3 month old babies?"
A widely shared video — which the maker said was initially removed for hate speech — also highlighted other Pride clothing for kids. 
They included a shirt with Minnie Mouse ears over a rainbow-colored flag and the words: "Belong, believe, be proud" and another with "Ask me my pronouns."
Many quickly called for a similar boycott to the one against Target, which saw the retailer lose $10 billion in market valuation over the last 10 days when anger mounted over its own LGBTQ collection for kids.
That followed an initial uprising against Bud Light, which saw sales crash after partnering with transgender influencer Dylan Mulvaney.
"Looks like Kohl's didn't learn a thing from Bud Lite and Target," tweeted the End Wokeness account, which has more than a million followers.
"Another Company needing Bud-lighting!" wrote one "old Texan tired of the BS the left has turned our beloved country into."
"We already know what to do. Kohl's bud light moment," another critic wrote.
"YOU'RE NEXT!" another commentator wrote alongside a Kohl's ad showing a family of two dads and young kids all in Pride shirts.
"We are the reason @Target lost $10 billion in ten days!" the boycotter noted.
The onesie, which shows cartoon figures carrying a rainbow-colored flag, is currently half-priced at $9.99.
The Kohl's listing says: "Celebrate the joy that comes from living authentically and unapologetically during Pride month and all year long with this Baby Sonoma Community® Pride Bodysuit Set."
Loyal Kohl's shoppers left stinging one-star reviews and further threats of boycotts in the listing.
"Anyone that puts this on their kid should be locked up for life," one reviewer wrote, while another told the company: "Just stop it already."
"Leave sexuality out of clothing for babies. Absolutely ridiculous. Bye Kohl's!" another said, while a longtime tier-one customer said: "I'm OUT. This is disgusting."
Amid the barrage of anger at the items, a handful of online commentators stuck up for the company.
"Most major retailers celebrate Pride month. You've been hiding under a rock," one person wrote, while others called for shoppers to "all stick together and make sure @Kohls fights back" against the backlash.
"Kohls, Burlington, JCP, Macys, Dillard's, Nordstrom and the GAP companies will all celebrate Pride month with special clothing lines or are inclusive. Add Pepsi, Coca-Cola, 7-Up, Dr. Pepper, Absolut, Smirnoff . . . y'all gonna boycott EVERYONE," asked one Twitter user.
However, critics shot back to insist the anger has nothing to do with Pride, just the targeting of kids.
"A f—ing onesie?? NOBODY CARED UNTIL YOU DEMONS STARTED WITH THE KIDS!!" one person wrote.
Kohl's did not immediately return messages seeking comment early Monday.