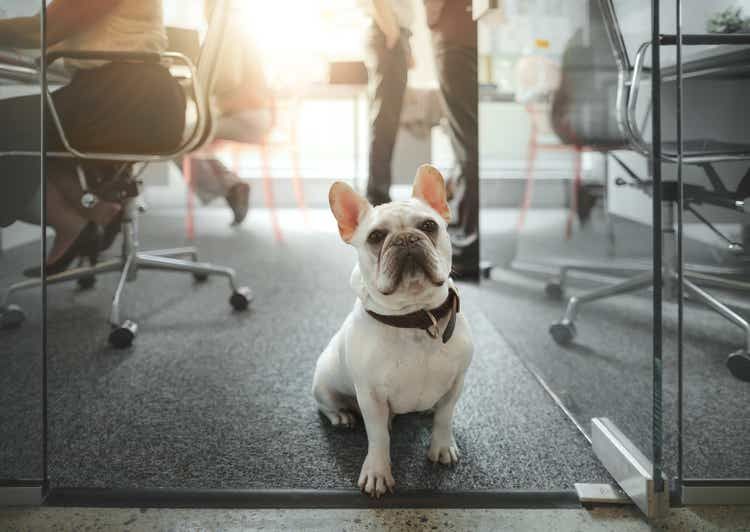 The office REIT sector has been crushed so far this year, down a whopping 30% YTD, with shares trading at a 51% discount (based on P/FFO) versus normal valuation multiples.
Office REITs are yielding an average of 9.4% and the lowest P/FFO multiple (of 5.8x) compared with all other property sectors within the iREIT™ universe.
We has written extensively on the office REIT sector, as we have covered names such as:
Over the last few weeks, several office REITs have cut their dividend and we now have four on our dividend watch list: (BDN), (SLG), (PDM), (DEA).
As you can see (above), Orion Office REIT (NYSE:ONL) has dropped by almost 34% YTD and a whopping ~69% since it spun off from Realty Income (O) in late 2021 (as a result of spin-off from the Realty Income and VEREIT merger).
Realty Income opted to spin its office portfolio, versus sell, as it had hoped that the company could create value by utilizing a management team that had experience with the ONL book of business. As you can see below, the C-suite execs all had experience at VEREIT and were familiar with the existing office portfolio.
I also find it interesting that four of the board members had ties to either Realty Income or VEREIT, namely Reginald Gilyard (board member at Realty Income), Kathleen R. Allen, Ph.D. (former Realty Income Director), Richard Lieb (former Director at VEREIT), and Gregory J. Whyte (COO at Realty Income).
That's not a knock on these Board members as they all appear to be qualified, however, as an investor in ONL I would like to see more outside influencers. Shares have been decimated since listing and the business models (office and net lease) require varying degrees of experience – one requires a lot of cap ex and the other (requires) very little.
The Basic Business Model
ONL's portfolio is comprised of substantially all office properties (100% office exposure – predominantly single-tenant, suburban net lease). The diversified portfolio of properties is primarily mission-critical headquarters locations with favorable exposure to investment grade tenants (73.6%).
There are 81 wholly-owned properties in the portfolio in addition to 6 JVs with a combined rental square footage of 9.73 million. The Annual Base Rent is around $156.45 million or $16.08 per square foot. The weighted average lease term is 4.0 years (more on that later).
ONL is focused on single-tenant net lease office in attractive suburban markets, including the Sunbelt, that are experiencing economic and population growth. The top 10 states (as % of ABR) include:
Texas 15.2%
New Jersey 12.3%
New York 8.7%
Illinois 7.3%
Kentucky 6.5%
Massachusetts 5.1%
Colorado 5.1%
Oklahoma 4.3%
Ohio 4.0%
California 3.4%
The value proposition for ONL is to provide investors with an opportunity to invest in suburban net lease office with demand drivers that include demographic tailwinds associated with recent suburban migration.
The Sun Belt continues to benefit from migration which has accounted for 75% of U.S. population growth in the last 10 years and now represents 62% of the total population. Corporations remain attracted to low-cost, tax-friendly Sun Belt markets with industry clusters in tech, life sciences and finance. 8 of 10 lowest cost markets for real estate development are located in the Sun Belt.
Large corporations are focused on locations that are situated in strong suburban and secondary markets or order to align with the employee population. As they suburbanize, Millennials (one of the largest cohorts of today's workforce) disproportionately value convenience and proximity to work.
A few examples of ONL markets include…
Phoenix – where the residential population grew 20% from 2010 to 2022 and the unemployment rate is hovering at 2.7% with over 90,000 jobs created from 2021-2022. The area is witnessing an inflow of foreign investment totaling $40 billion, creating 6,000 jobs with the new TSMC Facility.
Dallas / Fort Worth – Texas is the national leader for Fortune 500 company headquarters and is 1 of 9 states with no individual income tax. Net positive migration seen at both the residential and corporate level with notable relocations/ expansions that include Aviatrix, Alkegen, Goldman Sachs, and Caterpillar Inc.
San Diego – An industry-leading mature hub for life science assets (where employment has grown by 20.6% over the last 3 years and contributes over $33.6 billion to the local economy). In 2022, the San Diego office market set a record for amount of space subleased at 2.8 million square feet – which is 3.4% of total supply.
Atlanta – Large tech company expansions in 2022: Mailchimp, Google, Visa, Microsoft, and McKinsey. Suburban and CBD Office rents grew 4.0% and 6.0% year-over-year.
Here's a snapshot of ONL's Top Tenants:
Although Walgreens (WBA) is on the above-referenced list, the company has agreements currently in place to sell 8 properties, representing 631,000 square feet, for an aggregate sale price of $41.0 million, including the 6 property Walgreens campus in Deerfield, IL.
Digging Deeper
As referenced above, ONL's weighted average lease term is 4.0 years, and given the fact that the internal management team has deep knowledge of the portfolio and should be able to achieve growth organically via active asset management and externally via value-added investment opportunities. As seen below, around 37% of the leases rollover in 2023 and 2024:
On the latest (Q1-23) earnings call management said,
"…like other office landlords, we are seeing some office tenants seeking less square footage on renewal, and this development will likely continue for the foreseeable future. As we stated last quarter, the pace of signing early renewals has slowed and the tenant decision-making process has lengthened. Nonetheless, we remain active on the leasing front."
In Q1-23 ONL signed 4 leases for 83,000 square feet, including the renewal of a 64,000 square foot lease with the U.S. government in Parkersburg, West Virginia for 15 years.
Management also pointed out that,
"Given the timing of leases and the size of our portfolio, tenant retention will be volatile quarter-to-quarter and year-to-year, depending on the needs of our tenants. Our portfolio's weighted average lease term was four years at quarter-end."
Show Me The Money
Upon listing, ONL has maintained a conservative balance sheet that consists of $449.5 million of liquidity, comprised of $24.5 million of cash on hand, including a proportionate share of cash in the Arch Street JV, and $425 million of available capacity on the revolving credit facility. 100% of debt is fixed or swapped to fixed rate.
Net debt to annualized adjusted EBITDA was 4.27x for Q1-23, which is below the year-end 2023 guidance range of 4.3x to 5.3x. As seen below, ONL has a $175 million term loan set to expire on November 12, 2023 and the revolving credit facility that is scheduled to mature on November 12, 2024.
It has more than enough capacity on the revolving facility to retain the flexibility to refinance the term loan facility on to the revolver at maturity. On the latest call management said,
"We recognize the market for financing office real estate assets is currently dislocated. And over the past year, we have deliberately maintained significant liquidity on the balance sheet as a result. We remain committed to operating the business on a low leverage basis, which gives us good financial flexibility to execute on our business plan."
ONL did not make any new acquisitions or repurchase shares in Q1-23.
In Q1-23 ONL generated total revenue of $50.2 million as compared to $53.2 million in Q1-22. It reported a net loss attributable to common stockholders of $8.9 million or $0.16 per share as compared to a net loss of $9.9 million or $0.17 per share reported in 2022.
Core FFO in Q1-23 was $25.3 million or $0.45 per share as compared to $29.3 million or $0.52 per share in Q1-22. G&A was $4.3 million compared to $3.5 million in Q1-22.
CapEx in Q1-23 was $3.3 million compared to $2.4 million in 2022, including tenant improvements of $1.6 million and other property improvements of $800,000, leasing commissions associated with the property's leasing activity were an additional $900,000. As viewed below, analysts are modeling ONL's FFO to decline by 11.3% in 2023 and another 16.0% in 2024:
The 2024 numbers don't look good and that's what has Mr. Market spooked. We like using AFFO (as opposed to FFO) since that includes CapEx and leasing commissions.
That's scary …a 43% drop in AFFO over two years…
While the dividend appears safe, with a payout ratio of just 33% (based on FFO/sh), the 43% decline in AFFO/sh is no way to create shareholder value.
Meanwhile ONL's 2023 G&A range is $18.75 million to $19.75 million and the market cap Is just $313 million.
Time for the Suggestivist to Speak
As you know, over the years I've written many articles in which I played the role as the "suggestivist" and I'll remind you that what separates me as a "suggestivist" versus an "activist" is a few more zero's.
I do own shares in ONL by way of the Realty Income spin, and I have yet to accumulate more shares, but I'm considering that now, as I may become much more "active" in my current role.
Although G&A appears high, I would like to see a few things…
Increase the board size and include a few outsiders with experience at M&A
Buy back shares
Share buybacks are a must as ONL is trading at an extremely cheap valuation:
With such a poor (analyst) outlook for 2023 and 2024, there will be a lot of wood to chop for ONL, and the only reason I'm staying in the game is in hopes of an M&A deal with the likes of Blackstone (BX), KKR (KKR), or similar private equity player.
It was certainly a good decision for Realty Income to spin the office assets, especially in this "toxic" office environment.
Needless to say, it doesn't look good, and it's now time for ONL's management team to use its levers to reduce G&A, buyback shares, and recycle assets into accretive opportunities:
Stay tuned for more details as I will be attending REITweek in a few days in hopes of meeting the management team. I will of course let you know if my suggestivism becomes activism.
Thanks for reading and I look forward to your comments below.
Author's note: Brad Thomas is a Wall Street writer, which means he's not always right with his predictions or recommendations. Since that also applies to his grammar, please excuse any typos you may find. Also, this article is free: Written and distributed only to assist in research while providing a forum for second-level thinking.