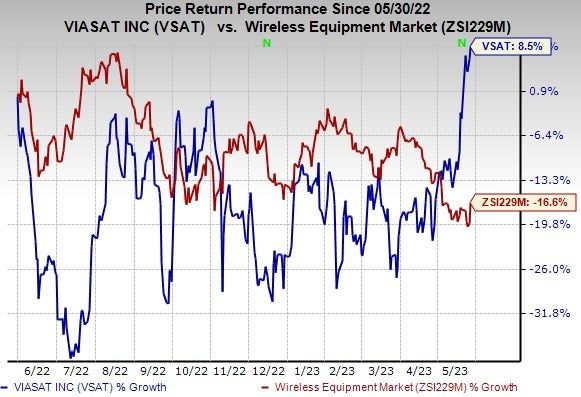 VSAT – Viasat (VSAT) Gets EU's Unconditional Nod for Inmarsat Buyout
Viasat Inc. (VSAT – Free Report) recently secured unconditional approval from EU antitrust authorities for its proposed acquisition of Inmarsat. The transaction, inked in November 2021, is valued at $7.3 billion comprising $850 million in cash, approximately 46.36 million Viasat shares valued at $3.1 billion (based on the closing price as of Nov 5, 2021) and the assumption of $3.4 billion of net debt.
Just a few days back, Viasat secured the U.S. Federal Communications Commission's ("FCC") approval for the buyout. In February this year, it also received provisional approval from Britain's competition regulator CMA. With the recent EU approval, the deal is set to close by the end of this month. The news seemed to have hit the right chords with investors as VSAT's share price was up nearly 2% to close at $45.30 as of May 26, 2023.
With more than 40 years of experience, Inmarsat operates a diverse portfolio of mobile telecommunications satellite networks, boasting a multi-layered global spectrum spanning L-band, Ka-band and S-band airwaves. It has established itself as a key player in the mobility segment and has achieved an edge in network design with its multi-dimensional mesh network.
The buyout will create a leading communications service provider with complementary assets and enhanced scale for offering affordable, secure and reliable connectivity.
The combined company intends to integrate the spectrum, satellite and terrestrial assets of both firms to create a framework incorporating multi-band, multi-orbit satellites and terrestrial air-to-ground systems that can deliver higher speeds and greater density of bandwidth at high-demand locations like airport and shipping hubs and low latency at a lower cost.
In particular, the merged entity will boast a broad portfolio of spectrum licenses across the Ka-, L- and S-bands and a fleet of 19 satellites in service with an additional 10 spacecraft under construction and slated for launch within the next three years. The global Ka-band footprint will support bandwidth-intensive applications driven by L-band assets that support all-weather resilience and highly reliable, narrowband and IoT connectivity. It will help unlock greater value by incorporating Viasat's state-of-the-art beamforming, end-user terminal and payload technologies and hybrid multi-orbit space-terrestrial networking capabilities.
Viasat's Ka-band solutions enable business jet customers to enjoy high-speed Internet connectivity from takeoff to touchdown. It empowers aviation clients to reinforce their in-flight connectivity (IFC) investments and helps customers stay connected with smooth web browsing and streaming services. Boasting unrivaled speed and quality, Viasat's Ka-band service has been specifically designed to meet the accretive demands of data backed by next-gen business applications. The Ka-band leverages global bandwidth to provide avant-garde Internet service with best-in-market pricing to boost the competitiveness of the business jet market.
The surging popularity of high-engagement IFC solutions has forced leading airline companies to scout for new ways to utilize Viasat's high-capacity satellite solutions to maximize passenger satisfaction. The company's impressive bandwidth productivity sets it apart from conventional and lower-yield satellite providers that run on incumbent business models. With an advanced level of Internet connectivity, airline carriers will offer customers an opportunity to stream all types of video content and seamlessly access free Wi-Fi aboard on air. In addition, it is likely to sow the seeds for future entertainment enhancements and personalization on customer seatback screens.
The stock has gained 8.5% over the past year against the industry fall of 16.6%.

Image Source: Zacks Investment Research
Viasat currently sports a Zacks Rank #1 (Strong Buy). You can see the complete list of today's Zacks #1 Rank stocks here.
Other Key Picks
InterDigital, Inc. (IDCC – Free Report) , sporting a Zacks Rank #1, delivered an earnings surprise of 170.89%, on average, in the trailing four quarters. In the last reported quarter, it pulled off an earnings surprise of 579.03%. It has long-term earnings growth expectation of 13.9%.
It is a pioneer in advanced mobile technologies that enables wireless communications and capabilities. The company engages in designing and developing a wide range of advanced technology solutions, which are used in digital cellular and wireless 3G, 4G and IEEE 802-related products and networks.
Akamai Technologies, Inc. (AKAM – Free Report) , carrying a Zacks Rank #2 (Buy), delivered an earnings surprise of 4.9%, on average, in the trailing four quarters. It has long-term earnings growth expectation of 10%.
Akamai is a global provider of content delivery network and cloud infrastructure services. The company's solutions accelerate and improve the delivery of content over the Internet, enabling faster response to requests for web pages, streaming of video & audio, business applications, etc. Akamai's offerings are intended to reduce the impact of traffic congestion, bandwidth constraints and capacity limitations on customers.
IHS Holding Limited (IHS – Free Report) , carrying a Zacks Rank #2, is another key pick. Based in London, the United Kingdom, it is one of the largest independent owners, operators and developers of shared communications infrastructure in the world by tower count.
IHS Holding has more than 39,000 towers across 11 markets — Brazil, Cameroon, Colombia, Egypt, Kuwait, Nigeria, Peru, Rwanda, South Africa and Zambia. The stock has gained 60.7% in the past six months.