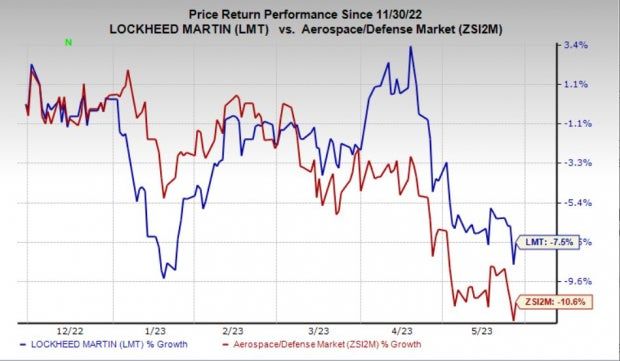 LMT – Lockheed (LMT) Wins Contract to Support Trident II Missile
Lockheed Martin Corp.'s (LMT – Free Report) Space business segment clinched a modification contract involving Trident II (D5) missile. The award has been offered by the Strategic Systems Programs, Washington, DC.
Valued at $27.1 million, the contract is expected to be completed by Sep 30, 2027. Per the terms of the deal, Lockheed will offer services related to production and deployed systems support for Trident II (D5) missile.
Majority of the work related to this deal will be executed in Magna, UT.
Significance of Trident II
The Trident II D5 fleet ballistic missile is a program with the U.S. Navy for the only submarine-launched intercontinental ballistic missile currently under production in the United States. It is the latest generation of the navy's submarine-launched fleet ballistic missiles, following the highly successful Polaris, Poseidon and Trident I C4 programs.
Lockheed's Space Systems unit is the prime contractor for the development, production and support equipment of this missile. The company also supplies technical and logistical support at the sites of the missile's deployment.
Due to its remarkable features, which are well-suited for any military mission, Lockheed continues to witness a steady inflow of orders involving the Trident. The latest contract win is a testament to that. This shall bolster LMT's revenues from the Space Systems unit.
Growth Prospects
Of late, nations have been increasing their spending on modernization and upgrading of defense military equipment and weaponry amid rising geopolitical tensions. Consequently, the demand for missiles is likely to gain momentum as these play a very important role in military missions.
Per Markets and Markets projections, the global missile defense system market is expected to witness a CAGR of more than 3.9% over the 2021-2036 period. Such projections exemplify immense opportunities for Lockheed to capitalize on the growing demand.
Prominent defense majors that are likely to enjoy the perks of the expanding missile defense market are Northrop Grumman (NOC – Free Report) , General Dynamics (GD – Free Report) and Raytheon (RTX – Free Report) that are involved in missile manufacturing or providing support services for the same.
Northrop Grumman's Missile Products business unit is a leading U.S. supplier of solid rocket propulsion for national security and defense. It provides stages for weapon systems, such as air-launched missiles, interceptors, submarine-launched systems and hypersonic missile systems.
The company has a long-term earnings growth rate of 3.8%. The Zacks Consensus Estimate for NOC's 2023 sales indicates an improvement of 4.7% from the year-ago reported figure.
General Dynamics' Ordnance and Tactical Systems designs, develops and produces a comprehensive range of sophisticated weapon systems for ground forces. It also produces next-generation weapon systems for shipboard and aircraft applications. The unit maintains a leading position in providing subsystems in support of U.S. tactical and strategic missiles.
GD boasts a long-term earnings growth rate of 8.9%. The Zacks Consensus Estimate for GD's 2023 sales indicates an increase of 5% from the prior-year reported number.
Raytheon's Missiles & Defense is a leading designer, developer, integrator, producer and sustainer of integrated air and missile defense systems. Its technology delivers unprecedented combat power to the world's most sophisticated fourth and fifth-generation aircraft and across every mission phase.
RTX boasts a long-term earnings growth rate of 8.3%. The Zacks Consensus Estimate for the company's 2023 sales implies improvement of 8.3% from the 2022 recorded figure.
Price Movement
In the past six months, shares of Lockheed have decreased 7.5% compared to the industry's decline of 10.6%.

Image Source: Zacks Investment Research
Zacks Rank
Lockheed currently carries a Zacks Rank #3 (Hold). You can see the complete list of today's Zacks #1 Rank (Strong Buy) stocks here.