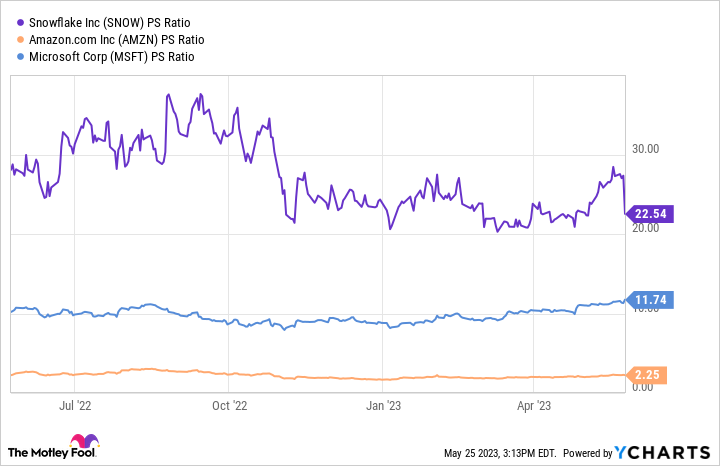 Snowflake (SNOW 1.42%) plunged 16% in the following trading session after releasing its report for the first quarter of fiscal 2024 (ended April 30). The outlook pointed to slowing growth rates.
Nonetheless, the report also noted many attributes that reinforced the previous bull case for the stock. Hence, investors may want to treat it as an opportunity to add shares in the software-as-a service (SaaS) stock. Here's why.
Snowflake's earnings report
The fiscal Q1 report points to Snowflake's continuing popularity. Its revenue of roughly $624 million increased 48% compared with the first quarter of fiscal 2023. That represents a slowdown from fiscal 2023, when revenue grew at 69%.
However, net revenue retention came in at 151%, meaning its long-term customers spent 51% more on the platform than one year ago. Also, the customer count grew 29% to almost 8,200, with the number of customers spending over $1 million on the platform surging 80% higher. These factors contributed significantly to Snowflake's revenue growth. 
Additionally, Snowflake reported a non-GAAP (generally accepted accounting principles) income of $54 million, up from a $2 million loss in the year-ago quarter. While stock-based compensation costs still led to a loss on a GAAP basis, it still represents a considerable improvement.
Still, the company forecasts $2.6 billion in product revenue (which includes revenue from professional services and other sources), a yearly increase of 34%. 
Furthermore, Snowflake trades at a price-to-sales (P/S) ratio of 23. Even though that is not far ahead of all-time lows, it is significantly higher than its largest competitors, Amazon's AWS and Microsoft's Azure. Such a sales multiple may give Snowflake little room for error.
The value proposition for Snowflake 
Nonetheless, Snowflake's unique opportunity could carry the company through that financial concern. According to Gartner, Snowflake serves an addressable market expected to grow to $248 billion by 2026. The company also forecasted $10 billion in revenue in fiscal 2029, implying a 30% compound annual growth rate over the next six years. This makes it likely the rapid growth will continue for years to come.
Moreover, moving data to the cloud offers considerable benefits. It allows data to reside in one depository, where administrators can secure it, grant access where needed, and monitor all changes. This ensures that data remains safe and accurate.
Furthermore, thanks to Snowflake's interoperability, it can work seamlessly with data residing on AWS, Azure, and other clouds. That gives Snowflake a competitive advantage that should motivate prospective customers to choose it over data clouds from its mega-tech competitors.
Additionally, Snowflake is an AI stock. In the Q1 2024 earnings call transcript, chairman and CEO Frank Slootman outlined the opportunity in artificial intelligence (AI) using generative AI, a product heavily dependent on data.
To this end, Snowflake facilitates machine learning workflows, allowing rapid data access. Also, thanks to Snowpark, Snowflake can process data in multiple programming languages, giving developers an additional incentive to choose its product.
Consider Snowflake stock
Given the power of Snowflake's solution and the massive addressable market, the future should turn brighter for Snowflake stock. Indeed, Snowflake remains an expensive stock, and the slowing growth in product revenue is a cause for concern.
However, Snowflake's data cloud is arguably best suited for storing and applying data, and with the rising dependence on AI, this SaaS product has become more critical. Considering these factors and its long-term revenue forecast, the growth needed to drive the stock price higher appears poised to continue.
John Mackey, former CEO of Whole Foods Market, an Amazon subsidiary, is a member of The Motley Fool's board of directors. Will Healy has no position in any of the stocks mentioned. The Motley Fool has positions in and recommends Amazon.com, Microsoft, and Snowflake. The Motley Fool recommends Gartner. The Motley Fool has a disclosure policy.