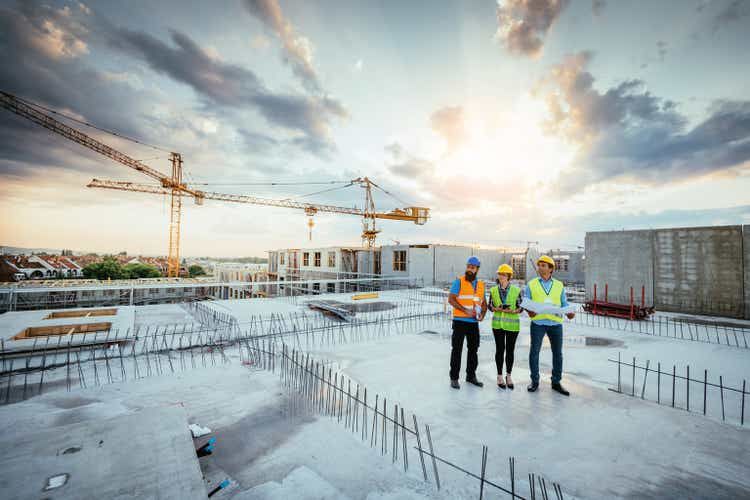 "Cheops' Law: Nothing ever gets built on schedule or within budget." – Robert A. Heinlein, Time Enough for Love
Today, we turn our focus to M/I Homes, Inc (MHO) whose stock had risen just over 50% so far in 2023 despite 30-year mortgage rates topping seven percent. In April, some insiders were significant sellers of the stock. Are they signaling it may be time to ring the register on this equity? An analysis follows below.
Company Overview:
M/I Homes, Inc. is headquartered in Columbus, Ohio. The company builds primarily single-family homes and attached townhomes to home buyers under the M/I Homes brand name. The company's primary markets are in Ohio, Indiana, Illinois, Minnesota, Michigan, Florida, Texas, North Carolina, and Tennessee. The company currently owns 24,000 home lots, an approximate three-year supply at the current pace of construction. M/I Homes is following the net migration of the country and 68% of these lots are in the South with 32% in the North. Homes delivered in the first quarter was roughly a 60/40 split in comparison. Home deliveries rose 14% from the South on a year-over-year basis while they declined five percent in the North.
The stock currently trades just north of $71.00 a share and sports an approximate market capitalization of $2 billion.
First Quarter Results:
It is hard to find much fault within the first quarter numbers that M/I Homes reported on April 26th. Revenue rose just over 16% on a year-over-year basis to $1 billion, more than $200 million over the consensus. The company also posted a GAAP profit of $3.64 a share, more than a buck a share over expectations.
Net income rose 12% to an all-time first quarter record of $103.1 million as the company delivered 2007 homes in the quarter. This was up 10% over 1Q2022, and the average sales price also rose six percent. The company's mortgage and title operations achieved pretax income of $12.6 million compared with $13.1 million in 2022's first quarter. Overall, pre-tax income was up 11% year-over-year to $136 million. Return on Equity was a whopping 26%.
Unfortunately, as Jack Nicholson might say, this is 'As Good As It Gets', at least for a while. Comps are going to start to turn negative in the quarters ahead. This can be gleaned from the order flow, which management also highlighted in its first quarter report. Contracts for new homes decreased 14% from 1Q2022 to 2,171. Order backlog dropped $1.1 billion from the same period a year ago to $1.7 billion. Homes in that backlog fell to 3,301, a 40% decrease from the first quarter of 2022. Gross margins fell 130bps on a year-over-year basis to 23.5%. The cancellation rate in the first quarter was 13% and 54% of customers were new home buyers.
Analyst Commentary & Balance Sheet:
Despite a $2 billion market cap, M/I Homes gets little coverage from Wall Street. The only analyst rating I can find over the past year on this name is from Wedbush. They raised their price target by ten bucks a share on February 6th while maintaining their Outperform rating on the shares on February 6th.
Approximately three percent of the outstanding float in the shares is currently held short. Through dozens of transactions, the CEO & Chairman of the company sold approximately half his stake in the firm in late April, totaling nearly 100,000 shares. The Principal Accounting Officer also looks like she disposed of nearly her entire stake in the firm in April as well. Albeit, that was just less than 5,000 shares in total.
There is nothing wrong with the company's balance sheet, which was described in the following way via the company's first quarter press release:
The company ended the first quarter with a record shareholders' equity of $2.2 billion, an increase of 28% over last year, book value of $79 per share, cash of $543 million, zero borrowings on our $650 million credit facility, and a homebuilding debt to capital ratio of 24%."
Verdict:
The current analyst firm consensus has the company earning $11.76 a share in FY2023 as sales fall in the low teens to $3.66 billion. M/I Homes earned $17.74 a share on $4.13 billion in revenue in FY2022 in contrast. The analyst community projects growth will return in FY2024, where the consensus has the home builder earning $13.17 a share on $3.91 billion. It is important to note, only two analysts have projections for FY2023 and a single analyst has posted 2024 estimates.
The stock now trades right at five-year highs despite average 30-year mortgage rates rising from just over three percent at the start of 2022 to the current seven percent. The last peak occurred in May 2021. The stock then fell 50% before finally bottoming late in the summer of 2022.
Will history repeat? One key insider certainly seems to be taking some chips off the table. With a probable recession on the horizon over the next 12 months and higher mortgage rates likely to stay with us for a while, the housing sector will have to continue to navigate considerable headwinds. The stock appears cheap (6 times forward earnings, 50% of trailing of revenues) by some metrics compared to the overall market.
However, homebuilding is one of the more cyclical sectors in the market and the economy. M/I Homes certainly has the balance sheet to weather sustained challenges in the housing market. The company also seems well-run. However, the stock could well be 'dead money' as earnings and sales growth come in negative in FY2023. Therefore, I would side with the caution shown by the CEO and take some profits in this name if you own it.
"We built tall buildings, but we have not become any taller." – Dejan Stojanovic, The Sun Watches the Sun